¡Otras colegas y yo estamos colaborando de nuevo para traerles otro carnaval de blogs! Esta vez estamos compartiendo algo con tema del otoño o el Día de acción de gracias; ¡incluso un recurso gratuito!
A few other colleagues and I are collaborating again to bring you another blog hop! This time we're sharing fall or Thanksgiving-themed content, including a free resource!
Aunque mantenemos una tradición diaria de darle gracias a Dios por todo, lo bueno y lo malo, en noviembre pensamos aún más en este tema. Hemos hecho el Árbol de las gracias, en que añadimos hojas a un arbol pegado a la pared, y en cada hoja escribimos algo por el cual le damos gracias a Dios. También hemos hecho guirnaldas con huellas de mano. Esta vez yo quería algo un poquito distinto, así que inventé «Olas de gratitud».
While we have a daily tradition of thanking God for everything, the good and the bad, in November we concentrate even more on this theme. We've done the Thankful Tree, in which we add leaves to a tree taped tot he wall, and write something for which we are thankful on each leaf. We've also made wreaths with handprints. This time I wanted to do something a little bit different, so I invented "Waves of Thanksgiving".
Como hablamos tanto de los Puritanos que vinieron de Inglaterra (através de Holanda) a Plymouth en esta época, hice un mapa del Océano Atlántico en un gran cartelón. Añadí un poquito de Europa y de América del Norte, y luego recorté olas que vamos a usar para llenar el océano. En cada ola, vamos a escribir algo por el cual le damos gracias a Dios.
Since we talk so much about the Puritans who came from England (by way of Holland) to Plymouth at this time of year, I made a map of the Atlantic Ocean on a big piece of blue posterboard. I added a bit of Europa and North America, and then cut out waves that we'll use to fill the ocean. On each wave, we'll write something for which we give thanks to God.
No vayan a pensar que solo pensamos en el Día de acción de gracias desde la perspectiva de los Puritanos (no los llamo peregrinos, porque ellos no se llamaban así). También estamos investigando cuánto de la historia que contamos del primer Día de acción de gracias es verdadera, y cuánto es leyenda o mito. Si nunca han investigado esto, se lo recomiendo. Un buen libro para empezar es 1621: A New Look at Thanksgiving.
Don't assume from this, though, that we only think about Thanksgiving from the perspective of the Puritans (I'm not calling them Pilgrims because they didn't call themselves that). We are also investigating how much of the story of the First Thanksgiving that we tell is true, and how much is legend or myth. If you've never investigated this, I highly recommend it. A good book to begin the investigation is 1621: A New Look at Thanksgiving.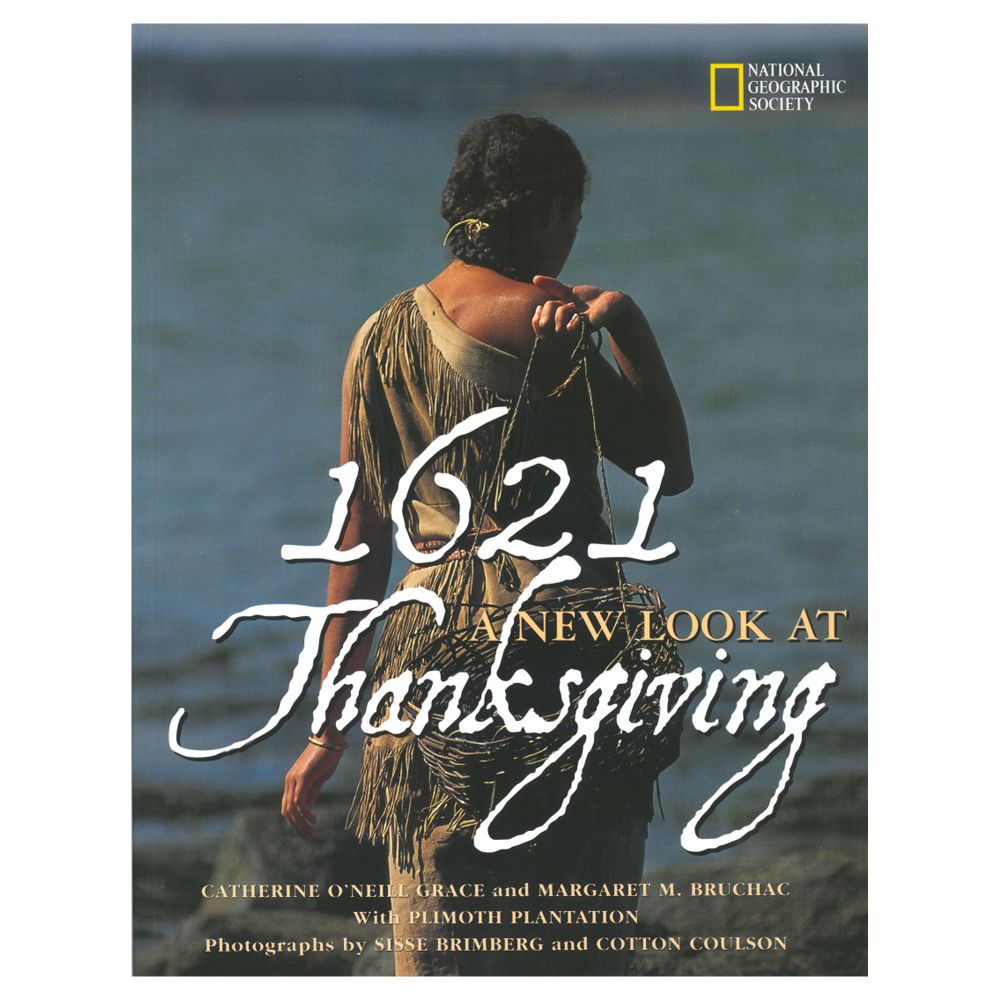 Sr. Científico está trabajando en un modelo de Plymouth después de leer este y otros libros, y su modelo va a incluir las casas Wampanoag que se ubicaban cerca de Plymouth…¡que en verdad había sido un villorio Wampanoag antes de que llegaran las enfermedades europeos!
Mr. Scientist is working on a model of Plymouth after reading this and some other books, and his model will include the Wampanoag houses that were close to Plymouth…which had been, in reality, a Wampanoag village until the European diseases arrived!
Y ahora, como prometido, ¡les tengo un recurso gratuito! Siempre queremos más trabajo con los problemas razonados, y Sr. Científico insiste en que estén en algún formato que tiene sentido, no una colección de problemas sin conexión ni propósito. Así que he hecho esta historia de Álvaro y sus amigos, quienes están coleccionando bellotas para prepararse para el invierno. Hay que leer la tabla y resolver problemas razonados para ver cuántas bellotas han recogido, y si tendrán suficientes para el invierno. Hay tres niveles, para que los de primer hasta cuarto grado puedan usar la actividad. Y, ¡hay una versión en ingles, y una en castellano, los dos en el mismo archivo!  Pueden hacer clic en el imágen abajo para descargarla en mi tienda de TpT, o pueden hacer clic en EL ENLACE DEBAJO DEL IMAGEN para descargarla directamente del blog. ¡Qué disfruten! ¡Y que sigan con el carnaval, hacienda clic en el botón de Next Stop que está al final!
And now, as promised, I have a free resource for you! We always want more work with word problems, and Mr. Scientist always insists that the be in some format that makes sense, rather than a collection of problems without connection nor purpose. So, I've made this little story about Álvaro and his friends, who are collecting acorns to prepare for winter. Students have to read the table and solve word problems to see how many acorns they've collected, and if they'll have enough for the winter! There are three levels, so that it can be used from first to fourth grades. And, there's a version in English and in Spanish, in the same file! You can click on the cover below to download it from my TpT store, or you can click on THE LINK BELOW THE PICTURES to download it directly from this blog. Enjoy! And keep hopping along in the blog hop by clicking on the Next Stop button below!
AlvaroBellotasProblemasRazonadosFlat
¡Ahora sigan a la próxima parada!
Now go on to the next stop!
This entry is also available in: Inglés